2nd SUNDAY
IN ORDINARY TIME
Click HERE for Readings & Gospel
Click HERE

for Parish Bulletins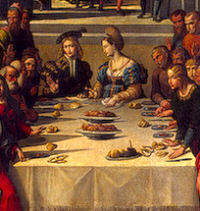 Saturday,
January 15th
Sunday,
January 16th
__________
St. John Paul II School
Grades 5-12
Open House
Sunday, Jan. 30th 1:00-3:00 PM

Prospective students and their families are invited to ioin us for an open house. Meet staff and students, tour the campus, and learn about an education that changes lives. COVID protocols are in place. Now Accepting applications for the 2022-2023 school year. Financial aid is available. For more information, please click HERE to learn more.
St. Margaret Church
Regular Schedule
____
o MASS Sun 7:30AM | 11AM
o MASS Sat 4PM (Sunday Vigil)
o
RECONCILIATION
Sat 3PM - 3:30PM
____
o MORNING MASS
Monday through Friday 8AM
o ROSARY
After 8AM Mass (Mon - Fri)
At 7AM Before 7:30AM Mass (Sun)
Bishop lifts Mass Dispensation,
encourages a return to
Sunday celebration of the Eucharist
Bishop Edgar M. da Cunha, S.D.V., and regional Catholic Bishops have together decided to inform the Catholic faithful that the dispensation of the Sunday and Holy Day Mass obligation was lifted on Father's Day, June 19-20.
The Bishops saw Father's Day weekend as an appropriate time to encourage Catholic faithful, especially families, to return to the Sunday celebration of the Eucharist, the center of every Catholic life.
The obligation does not apply to those who are ill, recently exposed to COVID-19 or other communicable illnesses, those confined to their homes or other facilities for various reasons, and those who are not able to be vaccinated for specific reasons.
Pro-Life in Christ!
January 15, 2022 6PM
Starting @ 6PM at St. Vincent de Paul, 71 Linden St., Attleboro, MA and finishing @ St. John the Evangelist, 133 North Main St., Attleboro, MA. Following the march there will be a Praise and Worship at St. John's. Any questions, contact Kevin or Renee: 508-222-1206 or visit: attleborocatholics.org.
2022 March for Life!!
Washington, DC
Jan., 20th thru Jan. 22nd
Cape Cod Bus for Life, Inc.
Please pick up the Registration form at the Church entrances for details. Please note the cost is $300 per person (room sharing). Single occupancy is $500.
Parish Office Hours
We have resumed our regularly staffed office hours. The Parish Office is open Monday through Friday 9:00 AM - 3:00 PM. It is closed 12:00 PM to 1:00 PM for lunch. Our telephone number is 508-759-7777. Upon entering the office, hands must be sanitized and
masks must be worn!