THIRD SUNDAY
OF EASTER
Click HERE for Readings & Gospel
Click HERE

for Parish Bulletins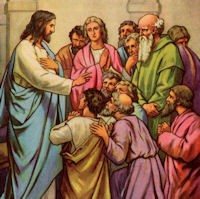 Saturday (Vigil),
April 17th
Sunday,
April 18th
Flower Committee
Thank you to all who contributed to the fund for Easter flowers. Beginning on April 18 after the 9am Mass at St. Mary's and the 11am Mass at St. Margaret's, the LILIES may be taken home for your enjoyment. The azaleas and hydrangeas will be used for landscaping at the churches. Please do not remove them. Thank you.
FAITH FORMATION INFORMATION!!
AT ST. MARGARET CHURCH
1st PENANCE -  SAT., APRIL 17th
10AM at St. Margaret Church
1st COMMUNION - SAT., MAY 1st
CONFIRMATION - WED., JUNE 2nd
(further details to follow)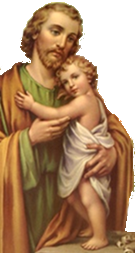 On December 8th, 2020
Pope Francis proclaims
"Year of St. Joseph"
MASS FOR FEAST OF ST. JOSEPH THE WORKER!
As a Diocese, we will be partaking in this year through opportunities for prayer and formation, including the 33-day Consecration to St. Joseph concluding on May 1st, the Feast of St. Joseph the Worker. Bishop Edgar M. da Cunha, SDV will celebrate Mass at the Cathedral of St. Mary of the Assumption in Fall River on Saturday, May 1st at 10AM for the Feast of St. Joseph the Worker. The Mass will also be live streamed. Pre-registration for in-person will be required.
HOLY HOUR FOR THE YEAR OF ST. JOSEPH!
On Tuesday, June 8th at 6PM (the Tuesday after the Solemnity of Corpus Christi), Fr. Jay Mello - Pastor of St. Michael and St. Joseph Parishes, will lead a Holy Hour at St. Joseph Parish (1335 N. Main St., Fall River, MA 02720). Confession will be available. RSVP required.
For more information, to pre-register or RSVP for these free events, visit: https://fallriverfaithformation.org/stjoseph
The Year of St. Joseph prayer is enriched with
a partial indulgence (Source: USCCB).
Click HERE to view & print.

Parish Office Hours
We have resumed our regularly staffed office hours. The Parish Office is open Monday through Friday 9:00 AM - 3:00 PM. It is closed 12:00 PM to 1:00 PM for lunch. Our telephone number is 508-759-7777. Upon entering the office, hands must be sanitized and masks must be worn!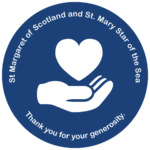 Please remember that the parish must survive – its buildings maintained, and staff compensated.  We can only do that with the help of your contributions, either by Mail or Online Giving. Thank you for your generosity.
MAKING SENSE "CENTS"!!!!
________ 
St. Margaret Parish Center
Thursday & Friday from 10 AM - 4 PM
Saturday from 10 AM - 5 PM
Our contact phone: 508-759-2213
Our "Fundraising Shop" raised a total
of $2,469.00 for the month of March.
SEEKING VOLUNTEERS
Crafters - Would you like to join our newly formed group of crafters? Beautiful, unique items will be created for the purpose of selling in our Attic Treasures shop and possibly elsewhere! We will be meeting twice a month on Mondays for a few hours.
Library Experience - Do you have library experience? We have a huge number of books that need to be sorted by category, etc.
General Volunteers - Can you spare just a few hours a week? We can use you! We have 3-hour shifts available on Thursday, Friday, and Saturday.
PLEASE SIGN IN
WHEN ENTERING A WEEKEND MASS!!!
There will be a sign-up list at Church Entrances. Please print your name and phone number clearly at the Mass you are attending. This will be for contact information in case of any covid 19 issues. Thank you for your patience, we want to keep everyone healthy and easy to reach if necessary.
VOLUNTEERS NEEDED!!!
Volunteers are needed to sanitize the pews after the Weekend Masses here at St. Margaret's. That would be 4 pm on Saturday, 7:30 am and 11 am on Sunday. We would need between 2 - 4 people at each Mass.
Confirmation students can take part in this as their Community Service obligation. Please call the Parish Office and leave your name, phone number, and the Mass you would like to help at.
The TABERNACLE LAMP the week of April 11th at St. Margaret's, is In Loving Memory of Mary Devaux.
If you would like to have a Memorial devoted to a loved one for the week, please call the Rectory and we will be glad to assist you in this special remembrance.
The Memorials are: the Tabernacle Lamps, Offertory Wine, Altar Bread, Holy Oils and Altar Flowers. Cost is $25 per item per week, except for the Tabernacle Lamp ($15 per week).
Madelyn Alexander, Savine & Hailey Manduca, Debra & Michael Cassady, Teresa Chambers, Claire Coulombe, Grace Clark, John & Debra Cristello, Linda Ehrhard, Gerry Hough, Peter Gangemi, Louise Gendron, Diane Honeywell, Baby Oscar Huerta (has cancer), Jeannette & Richard Kokoszka, Nathan Lynch (former MMA Cadet), David Marchand, George McCarron, Patricia O'Rourke, Callen James Pellerin, Bob Smith, Louise St. Michel, Angel Cruz Vazguez, Annette Wahnon, Mark, Ellen & Carl, Mike
** Please call the Office to include your loved one's name. Thank you.
Dimitri Bautista, (US Army) Rhiannon Barreda, Pvt Liam W. Brady, SSGT Dillon Caldwell, MCMA Sean P. Cox (US Navy), SGT Michael Dudley, Chris Glynn (Army Guard), PVT5 Thomas Hanlon (Army), Kevin Meiers (US Navy), LTJG Michael Feeney, TSGT Kevin Feeney, TSGT Zachary Moitoso, Jaslynn (JJ) Rodrigues (USMC), Max Rogers (USAF), Jack Rogers (US National Guard), PVT Derek Stevens, US Navy
** Please feel free to call the Parish Office and submit your loved one's name.

Join us on the First Friday every month. The Blessed Sacrament is exposed following the 8 AM Mass. The next First Friday is  May 7th.

Patriot's Day is a Diocesan Holiday so the Parish Office will be closed. The Office will open on Tuesday.
Call the Rectory during the week to purchase a Mass card for your loved one.
The Second Collection the weekend of April 24th & April 25th will be for "ASSESSMENT".
The Second Collection the weekend of April 17th & April 18th will be for "BUILDING FUND".
Please give what you can. Thank you and God bless you.
ROSARY at St. Margaret Church following 8AM Mass (Monday - Friday)
Rosary - WPLM Radio Station
Daily broadcast at 5 AM on 99.1 FM
Please remember




St. Margaret's - St. Mary's




in your estate plan

.
2020 Tax Statements
have been mailed out!!
If you have not received yours,
please call the Parish Office!!
LET'S CELEBRATE YOUR BIRTHDAY!
Gail Kilpeck, John Andrade, Eleanor Lopes Akaloun
Your birthday is worth celebrating! To include you in our birthday list, please call the Parish Office to leave your name.
ATTENTION EUCHARISTIC MINISTERS ..... Please feel free to assist at Mass when there is a shortage of Eucharistic Ministers for that Mass. We truly appreciate your dedication to this ministry. God bless you and thank you.
Read More
REVISED MASS SCHEDULE (as of June 8th):
PLEASE NOTE - there will NOT be a 6pm Mass on Tuesday or Thursday, nor an 8am Mass on Saturday. IF YOU HAVE RESERVED A MASS ON EITHER TUESDAY OR THURSDAY AT 6PM OR SATURDAY AT 8AM, PLEASE CALL THE PARISH OFFICE SO WE CAN RE-SCHEDULE FOR ANOTHER DATE!!!