SEVENTEENTH SUNDAY
IN ORDINARY TIME
Click HERE for Readings & Gospel
Click HERE

for Parish Bulletins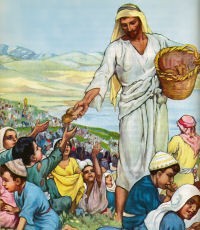 Saturday (Vigil),
July 24th
Sunday,
July 25th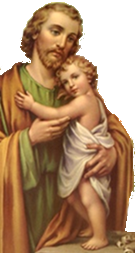 On December 8th, 2020
Pope Francis proclaims
"Year of St. Joseph"
SUMMER SPEAKER SERIES (continues)!!
On Wednesday, July 28th at 6PM - 8PM, St. Mary's Cathedral, Fall River. The series continues on successive Wednesdays during July, and each week will consider a different aspect of the life of St. Joseph – husband, father, worker, saint. Mass will be celebrated at 6PM with a guest preacher offering an extended homily and a cookout on the lawn will follow. For more information about the series, click the Fall River Diocesan Calendar HERE. This week our guest homilist will be Franciscan Father Joseph Powell.

MEET YOUR SPIRITUAL FATHER TALK!
On Saturday, August 21st at 1PM, Dr. Mark Miravalle, author of the book Meet Your Spiritual Father: An Introduction to St. Joseph will be having a virtual talk for the Diocese. Dr. Miravalle earned his Sacred Theological Doctorate at the Pontifical University of St. Thomas Aquinas in Rome. He holds the Saint John Paul II Chair of Mariology at Franciscan University of Steubenville, where he has been teaching since 1986. Dr. Miravalle is the founder and senior editor of Ecce Mater Tua, an international journal of Mariology research and president of the International Marian Association. Well known throughout the world for his lectures on Mariology, Dr. Miravalle has addressed several episcopal conferences, including those of South India, Nigeria, Venezuela, and Costa Rica. Dr. Miravalle has spoken at numerous international conferences and has appeared on EWTN, National Public Radio, and BBC.

For more information, to pre-register or RSVP for these free events, visit: https://fallriverfaithformation.org/stjoseph
The Year of St. Joseph Prayer
is enriched with a partial indulgence.
(Source: USCCB)
Click HERE to view & print.

________________________________
Bishop lifts Mass Dispensation,
encourages a return to
Sunday celebration of the Eucharist
Bishop Edgar M. da Cunha, S.D.V., and regional Catholic Bishops have together decided to inform the Catholic faithful that the dispensation of the Sunday and Holy Day Mass obligation was lifted on Father's Day, June 19-20.
The Bishops saw Father's Day weekend as an appropriate time to encourage Catholic faithful, especially families, to return to the Sunday celebration of the Eucharist, the center of every Catholic life.
The obligation does not apply to those who are ill, recently exposed to COVID-19 or other communicable illnesses, those confined to their homes or other facilities for various reasons, and those who are not able to be vaccinated for specific reasons.
FAITH FORMATION CLASSES (CCD)
2020-2021
Our gathering for Religious Education will continue on Sunday, May 2nd. Mass will be at 4:00PM at St. Margaret Church. This is a monthly commitment, the first Sunday of the month, for our children in the Faith Formation Program and their parents.
Cost for the program is $50.00 per student, maximum $100.00 per family. Please either call Ernie Boucher: 508-837-8640 or Email: [email protected] with any questions.
If you have not already: download, print and sign your required Forms for CCD instruction (below)-

~ Student Information Form, click

HERE

~ Diocese Additional Guidelines, click HERE

~ Guidelines Acknowledgment Form, click HERE
Be sure to complete, sign and return your required Forms including your payment.
Pre-printed Forms are also available for pickup at the Parish Office during staffing hours.
Parish Office Hours
We have resumed our regularly staffed office hours. The Parish Office is open Monday through Friday 9:00 AM - 3:00 PM. It is closed 12:00 PM to 1:00 PM for lunch. Our telephone number is 508-759-7777. Upon entering the office, hands must be sanitized and masks must be worn!
"FUNDRAISING SHOP"!!!!
________ 
St. Margaret Parish Center!!!!
WED - THU - FRI open 10 AM to 4 PM
SATURDAY open 10 AM to 5 PM
Contact Phone: 508-759-2213
Total for July 14, 15, 16 & 17: $1,239.00
ATTENTION CRAFTERS!!!!
If you like crafting and would like to be a part of our Crafting Ministry, please stop by the Parish Center on the 1st and 3rd Monday of each month from 10-2. This is a perfect opportunity to meet people and utilize your crafting talents. Only requirement is a smile and a happy attitude. Feel free to bring your lunch. For more info, call the Parish Center at 508-759-2213.
WELCOME BACK TO ALL!!!!

Effective Memorial Day weekend, the Commonwealth of Massachusetts lifted most regulations due to the coronavirus and that affected parishioners attending Masses.
Masses are now back to normal seating capacity! No need to sign in! Every pew is available! You are no longer required to wear a face mask at Mass; you may place aside your face mask when you are fully vaccinated or choose to continue wearing it! Non-vaccinated persons are advised to continue wearing face masks and to continue distancing in most indoor settings.

Please refer to our Diocesan "GUIDELINES FOR LITURGICAL PRACTICES AS PANDEMIC RESTRICTIONS ARE LIFTED", by clicking HERE for further details and protocols.
The Tabernacle Lamp at St. Margaret's the week of July 18th, is for Judi Griffin (L).
The Memorials are: the Tabernacle Lamps, Offertory Wine, Altar Bread, Holy Oils and Altar Flowers. Cost is $25 per item per week, except for the Tabernacle Lamp ($15 per week).
ROSARY will be starting on Sunday beginning at 7AM at St. Margaret Church before the 8AM Mass.
ROSARY at St. Margaret Church following 8AM Mass (Monday - Friday) and beginning at 7AM before the 8AM Mass on Sunday
Rosary - WPLM Radio Station Daily broadcast at 5 AM on 99.1 FM
Madelyn Alexander, Debra & Michael Cassady , Teresa Chambers, Claire Coulombe, Linda Ehrhard, Mary Jane Garbutt, Gerry Hough, Paula Hatch, Diane Honeywell, Baby Oscar Huerta (has cancer), Jeannette & Richard Kokoszka, Karen Monteiro Lopes, Chelsea Miranda, George McCarron, Kerry McRae, Callen, Jennifer Rose, Dustin Sequeira, Bob Smith, Angel Cruz Vazquez, Mark, Ellen & Carl, Mike, Christopher, Butch, Joe & unborn baby Kellegrew
PLEASE CALL THE OFFICE TO ADD YOUR LOVED ONES NAME TO OUR PRAYER LIST.
Dimitri Bautista, (US Army) Rhiannon Barreda, Pvt Liam W. Brady, Tech SGT Dillon Caldwell, SGT Michael Dudley, Chris Glynn (Army Guard), PVT5 Thomas Hanlon (Army), Kevin Meiers (US Navy), LTJG Michael Feeney, TSGT Kevin Feeney, TSGT Zachary Moitoso, Jaslynn (JJ) Rodriques (USMC), Max Rogers (USAF), Jack Rogers (US National Guard), PVT Derek Stevens, US Navy
Please feel free to call the Parish Office and submit your loved one's name.
We Welcome back MCMA Sean P. Cox (US Navy) (5 deployments). Welcome home and thank you for your service.
Join us on the First Friday every month. The Blessed Sacrament is exposed following the 8 AM Mass ending at 5 PM. The next First Friday is August 6th.
Call the Rectory during the week to purchase a Mass card for your loved one.
To all those who participated in the "Seeds of Charity"!!! Thank you for all the hard work and dedication in planting beautiful flowers all around the Church grounds.
If you would like to serve your Parish, we could use a few more Readers at weekend Mass or daily Mass. If you would like to serve the Lord, in this manner, please call the Office and let us know!
The Second Collection the weekend of July 24th & July 25th will be for "BUILDING MAINTENANCE".
The Second Collection the weekend of July 31st & August 1st will be for "PETER'S PENCE".
Please give what you can. Thank you and God bless you.
LET'S CELEBRATE YOUR BIRTHDAY!
Grace Moore, Casey Coulombe, Helen Fleming, Grace & Christopher McGuire, Tim & Sarah Crooker
Your birthday is worth celebrating! To include you in our birthday list, please call the Parish Office to leave your name.
Please remember




St. Margaret's - St. Mary's




in your estate plan

.
ATTENTION EUCHARISTIC MINISTERS ..... Please feel free to assist at Mass when there is a shortage of Eucharistic Ministers for that Mass. We truly appreciate your dedication to this ministry. God bless you and thank you.
Read More
Walking With Purpose - women's scripture group,  will be meeting on Sundays from September to May from 12:30-2:30 PM. We will be doing the book entitled "Discovering Our Dignity". It's a study of the women of the Bible. The book can be purchased at: https://walkingwithpurpose.com
.
You can register in the parish office or contact Cheryl and Hailey Manduca at 508-292-0562.
Registration for Daisy troop number 64968. About my troop! Ready to join my troop? Here's how!
Read More
COMING IN SEPTEMBER!!!
WATCH FOR MORE INFORMATION!!
St. Margaret Church
Regular Schedule
____
o MASS Sun 7:30AM | 11AM
o MASS Sat 4PM (Sunday Vigil)
o
RECONCILIATION
Sat 3PM - 3:30PM
____
o MORNING MASS
Monday through Friday 8AM
o ROSARY
After 8AM Mass (Mon - Fri)
At 7AM Before 8AM Mass (Sun)
FLOWER COMMITTEE NOTICE!!
The flower committee is planning a summer vignette which will include containers for flowers from parishioners' gardens. Everyone is invited to share blossoms from home. The Committee will ensure fresh water in the vases each week. We are welcoming new members to the committee: if you like what we do and would like to join us : come! If you would like to see change: come! Please give your contact information to Kathy Blais at the Parish Office and one of us will reach out to you.
PILGRIMAGE TO ITALY
WITH FATHER TOM
NOVEMBER 9 - 18, 2021

Join Fr. Tom Washburn and Fr. Mike MacInnis for a spectacular 10-day journey to Italy from November 9-18, 2021. We will visit Rome, Assisi, Siena, Pisa, Florence, and more to experience the beauty, history, culture (food and wine!), and holiness of this beautiful country. We will have daily Mass in some of the most beautiful churches, and our trip will include an audience with Pope Francis at the Vatican. All inclusive price is $3,799 per person.
Contact Fr. Tom: [email protected]
or call: 508.673.2833 for more info.