SECOND SUNDAY
OF ADVENT
Click HERE for Readings & Gospel
Click HERE

for Parish Bulletins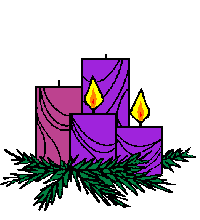 Saturday (Vigil),
December 4th
Sunday,
December 5th
__________
St. Mary Star of the Sea, Onset
St. Joseph the Worker
Adoration Chapel
(newly dedicated November 21, 2021)
St. Margaret Parish Center
143 Main Street, Buzzards Bay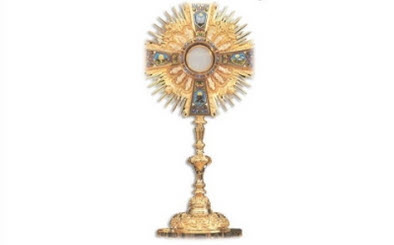 Now Open
Wednesday thru Saturday
10AM until 4PM
Spend some time in Adoration of the
Blessed Sacrament this faithful season.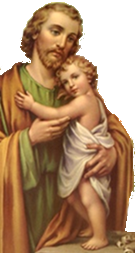 On December 8th, 2020
Pope Francis proclaimed
"Year of St. Joseph"
The Year of St. Joseph Prayer
is enriched with a partial indulgence.
(Source: USCCB)
Click HERE to view & print.

For more, click HERE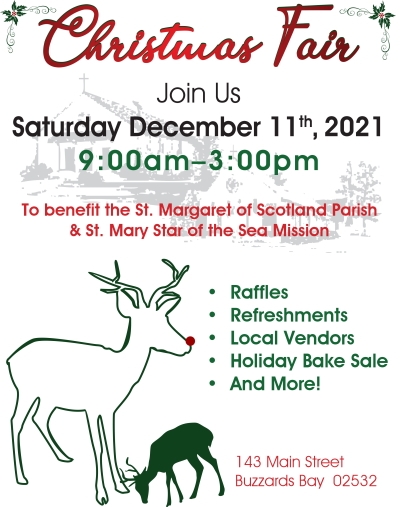 2021 Festival of Lights at the
National Shrine of Our Lady of La Salette
The Parish is planning a trip
to La Salette on Sunday, Dec. 12th.
Leaving: 4PM & Returning: 8PM
50 Seats Available
Plan to arrive 15 minutes early.
Cost is $10 per person
~~~~~~~~~~
We are also selling Christmas Cards
which offsets some costs of the trip.
You may purchase these for
$10 per box at the Parish Office.
~~~~~~~~~~
For more info, please contact
the Parish Ofc: 508-759-7777 or Ernie Boucher:
[email protected]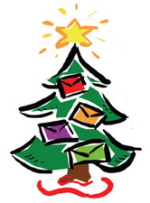 This year, "The Giving Tree" from the St. Margaret and St. Mary Parish Community will be helping the needy and foster children in our local community.
Christmas trees will be set up in both Churches and decorated with tags indicating the items needed.
Please feel free to take a tag from the tree and bring the gift back, (wrapped or unwrapped), with the tag attached to it. Gifts must be brought back no later than Sunday, December 12th.
Gifts for the foster children will also help fill Birthday boxes throughout the year that are delivered to the children on their birthday. What better way to celebrate Jesus' birthday year-round than through His children.
SVDP is again sponsoring the Giving Tree. We are so blessed to have such a wonderful, caring Parish Family!!!
THANK YOU FOR
YOUR KINDNESS and GENEROSITY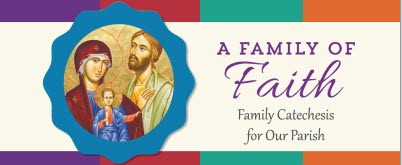 CCD Registration 2021 - 2022 has begun!
Please fill out the Registration form and return it to the Parish Office as soon as you can. Forms are available at the Parish Office and also available for download HERE.
On Sunday, December 5th at 7PM at St. Mary Church, there will be "Lessons and Carols". All Faith Formation participants are encouraged to attend at that time; this event will be held rather than the monthly 4PM session at St. Margaret Church which has been cancelled for this date only.

We will have our NEXT Family of Faith gathering on Sunday, January 2nd, 2022 (at St. Margaret Church) beginning with Mass at 4pm, then continuing on the first Sunday of each following month.
Read More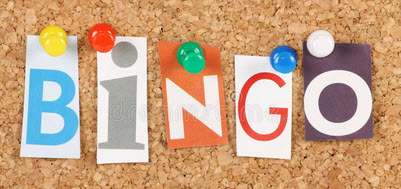 BINGO HELP NEEDED!!!
Yes, the Diocese has agreed to us having Bingo again!! We would like to put together a "Bingo Team". If you would like to be a team member and help put this together, we would love to have you on our team!! We are very excited about bringing Bingo back!! If you're interested please call the Parish Office (508-759-7777) and give your name and phone number and we will gladly get in touch with you!
You will be contacted as soon as we set a meeting date!!

"FUNDRAISING SHOP"!!!!
________ 
St. Margaret Parish Center!!!!
WED to FRI 10AM - 4PM & SAT 'til 4PM
Contact Phone: 508-759-2213
ATTIC TREASURES NEEDS YOU!!
Can you spare a couple of hours a week at the Fundraising Shop to help out? We're open Wed to Fri 10AM - 4PM & Sat 'til 4PM.
This shop benefits the St. Margaret Parish, helps to pay for the expenses of the Parish Center and defer Parish costs.
If interested in helping out, please call the Parish Office: 508-759-7777.
ATTENTION CRAFTERS!!!!

If you like crafting and would like to be a part of our Crafting Ministry, please stop by the Parish Center on the 1st and 3rd Monday of each month from 10AM to 2PM.
This is a perfect opportunity to meet people and utilize your crafting talents. Only requirement is a smile and a happy attitude. Feel free to bring your lunch. For more info, call the Parish Center: 508-759-2213.
Join us on the First Friday every month. The Blessed Sacrament is exposed following the 8 AM Mass ending at 5 PM. The next First Friday is December 3rd.
If you would like to have a Memorial devoted to a loved one for the week, please call the Office and we will be glad to assist you in this special remembrance.
The ALTAR BREAD the week of November 28th at St. Margaret Church is In Memory of William & Ann Ford from Paul & Jacqueline Ford
The ALTAR WINE the week of November 28th at St. Margaret Church is in Loving Memory of Bob Mortensen (1st Anniv.)
The ALTAR BREAD the week of December 5th at St. Margaret Church is for Paul & Jacqueline Ford (L)
The ALTAR WINE the week of December 5th at St. Margaret Church is in Loving Memory of Bob Mortensen (1st Anniv.)
The TABERNACLE LAMP the week of December 5th at St. Margaret Church is for Kathlynne Colleaary (6th Anniv.)
The Memorials are: the Tabernacle Lamps, Offertory Wine, Altar Bread, Holy Oils and Altar Flowers. Cost is $25 per item per week, except for the Tabernacle Lamp ($15 per week).
Joyce Zucco (Longtime parishioner)
James E. Smith, Jr.
Ruth M. Marchand (step-daughter is Ginny Marchand)
Billy Barry (beloved brother of Janice Gelnett)
Madelyn Alexander, Debra & Michael Cassady, Teresa Chambers, Claire Coulombe, Bonita Costello, Wayne Dudley, Linda Ehrhard, Elaine Fabrizio, Brian Fay, Mary Jane Garbutt, Gerry Hough, Paula Hatch, Curtice Hathaway, Diane Honeywell, Baby Oscar Huerta (has cancer), Jeannette & Richard Kokoszka, Karen Monteiro Lopes, Chelsea Miranda, George McCarron, Kerry McRae, Callen, Jennifer Rose, Bob Smith, Angel Cruz Vazquez, Mark, Ellen & Carl, Mike, Christopher, Butch, Joe & baby Olivia Kellegrew
PLEASE CALL THE OFFICE TO ADD YOUR LOVED ONES NAME TO OUR PRAYER LIST.
Dimitri Bautista, (US Army) Rhiannon Barreda, Pvt Liam W. Brady, Tech SGT Dillon Caldwell, SGT Michael Dudley, PVT5 Thomas Hanlon (Army), Kevin Meiers (US Navy), LTJG Michael Feeney, TSGT Kevin Feeney, TSGT Zachary Moitoso, Jaslynn (JJ) Rodrigues (USMC), Max Rogers (USAF), Jack Rogers (US National Guard), PVT Derek Stevens, US Navy. Please feel free to call the Parish Office and submit your loved one's name.
We Welcome back MCMA Sean P. Cox (US Navy) (5 deployments). Welcome home and thank you for your service.
ROSARY at St. Margaret Church
(Monday - Friday) following 8AM Mass
(Sunday) at 7AM before the 7:30AM Mass

____________
Rosary - WPLM Radio 99.1 FM
Daily broadcast at 5AM
CONTRIBUTIONS OF BAKED GOODS AND RAFFLE ITEMS ARE NEEDED FOR OUR CHRISTMAS FAIR.
PLEASE CONTACT SUE @ 978-807-8938
St. Margaret & St. Mary's Faith Formation is hosting a toy drive with
KIND HEARTS FOR KIDS, INC.
These gifts will support children in foster, adoptive or kinship care (Grandparents raising Grandchildren). The toys collected from November 7th through November 23rd will be distributed by Santa at their Winter Festival on December 5thth.
Please join the students and families in Faith Formation by donating a toy for a child in foster care. Gifts will be collected at the back of the church. Information is at the back of the church for how you can donate. Thanks in advance for your support
The Second Collection the weekend of December 4th & December 5th will be for "ASSESSMENT".
Please give what you can. Thank you and God bless you.
Please remember




St. Margaret's - St. Mary's




in your estate plan

.
LET'S CELEBRATE YOUR BIRTHDAY!
Sarah Bostrom, Robbie Connors, Jesika Vaivarins, Francesca Marini
Your birthday is worth celebrating! To include you in our birthday list, please call the Parish Office to leave your name.
If you would like to serve your Parish, we could use a few more Readers at weekend Mass or daily Mass. If you would like to serve the Lord, in this manner, please call the Office and let us know!
Call the Rectory during the week to purchase a Mass card for your loved one.
ATTENTION EUCHARISTIC MINISTERS ..... Please feel free to assist at Mass when there is a shortage of Eucharistic Ministers for that Mass. We truly appreciate your dedication to this ministry. God bless you and thank you.
Read More
Walking With Purpose - women's scripture group,  will be meeting on Sundays from September to May from 12:30-2:30 PM. We will be doing the book entitled "Discovering Our Dignity". It's a study of the women of the Bible. The book can be purchased at: https://walkingwithpurpose.com
.
You can register in the parish office or contact Cheryl and Hailey Manduca at 508-292-0562.
Registration for Daisy troop number 64968. About my troop! Ready to join my troop? Here's how!
Read More
CHRISTMAS MASS SCHEDULE!
CHRISTMAS EVE
Friday, December 24th

4PM - St. Margaret Church
12 Midnight Mass - St. Mary's

CHRISTMAS DAY
Saturday, December 25th

11AM & 4PM - St. Margaret's
9AM - St. Mary Church

Please note, the Parish Office will be closed on Friday, December 24th and Monday, December 27th (Christmas Observed).
St. Margaret Church
Regular Schedule
____
o MASS Sun 7:30AM | 11AM
o MASS Sat 4PM (Sunday Vigil)
o
RECONCILIATION
Sat 3PM - 3:30PM
____
o MORNING MASS
Monday through Friday 8AM
o ROSARY
After 8AM Mass (Mon - Fri)
At 7AM Before 7:30AM Mass (Sun)
Diocese Encourages
Wearing of Masks at Mass
Following Updated CDC Guidance

As most of you know, on Tuesday, July 27, 2021, the Centers for Disease Control and Prevention (CDC) announced a change to its mask-wearing guidance and now advises that fully vaccinated persons wear a mask in indoor public places in areas of the country with "substantial and high" transmission of Covid-19. Currently almost all territory of the Fall River Diocese lies in counties classified as either "substantial" or "high" areas of community transmission. In light of this, the Diocese of Fall River is strongly encouraging all parishioners to follow the CDC guidance and to wear a mask while attending Mass or any other liturgical celebration unless unable because of a medical condition or under the age of 2. For more info, please click HERE.
________________________________
Click HERE for latest
"Diocese Responds to the
Coronavirus Outbreak"
________________________________
Bishop lifts Mass Dispensation,
encourages a return to
Sunday celebration of the Eucharist
Bishop Edgar M. da Cunha, S.D.V., and regional Catholic Bishops have together decided to inform the Catholic faithful that the dispensation of the Sunday and Holy Day Mass obligation was lifted on Father's Day, June 19-20.
The Bishops saw Father's Day weekend as an appropriate time to encourage Catholic faithful, especially families, to return to the Sunday celebration of the Eucharist, the center of every Catholic life.
The obligation does not apply to those who are ill, recently exposed to COVID-19 or other communicable illnesses, those confined to their homes or other facilities for various reasons, and those who are not able to be vaccinated for specific reasons.